About Us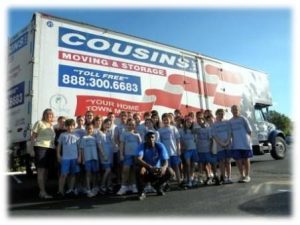 Cousins USA Moving & Storage have been providing the best quality moving and storage services since 1996.
Our story began in 1984, when as teenagers, we decided to move to South Florida from New York. Upon doing so, we began working for our "Cousin", in the moving industry. That experience inspired us, and so we decided to venture out on our own. Cousins Moving & Storage was born.
Initially, we were just a local moving company aimed at providing a great service at an honest, reasonable price. After a few years and increased consumer demand, we realized there was a lot more to this industry than just being a small, local hometown mover.
We then decided that our capabilities should reach further than just our immediate community and began relocating consumers outside of our community and even as far as outside the state. Cousins "USA" Moving and Storage was officially launched.
With this launch we realized that operating independently was putting restraints on satisfying the consumer's needs. So the next logical step was for us to seek out a Van Line that would allow us to service more consumers at the level of satisfaction they demanded. We felt this was an important step to take if we were to grow our business.
In our search for a Van Line that would be a good fit, we found Stevens Worldwide Van Lines, and an immediate connection was made. They are a family owned and operated business just as we are, and they have been in business for over 100 years. Their strong values and commitment to customer satisfaction is the same as ours, and we can only strive to be in business as long as they have. In becoming an agent for Stevens Worldwide Van Lines, we now have the capacity to relocate anyone, anywhere in the world.
South Florida Moving Company
Cousins USA Moving & Storage is a full-service professional moving and storage company that has been serving Fort Lauderdale and all of South Florida since 1996. That experience has given us the knowledge and expertise necessary to deliver convenient moving services, coupled with unparalleled customer service and satisfaction. Cousins USA is a leading mover in South Florida, and we offer customized moving and storage options designed to exceed all of your expectations. If you are planning a move in Fort Lauderdale, anywhere in South Florida, the United States, or – -the world– contact Cousins USA Moving & Storage. We are ready to assist you with your next move. Call us at (954) 792-6650.