Apartment Movers
Quick Read
Cousins USA are the Fort Lauderdale area apartment movers that you can trust. Our goal is to make your move worry-free through our dedication and expertise. For your apartment moves, we offer:
Packing and Unpacking Solutions
Climate-Controlled Warehouse Storage
Flexibility to Move Off-Hours
Specialty Moves (Piano Movers, Gun-Safe Movers, and More!)
There are a ton of moving options, so what makes Cousins USA different? Here are just a few of the reasons why we are the apartment movers for you:
Trusted Since 1996
Family-Owned and Operated
Fully Licensed, IM256
Fully Insured, General Liability and Workman's Comp
In-Depth Buyer's Guide Available
Have any questions? Want to learn more? Then give us a call at (954) 792-6650. For your free estimate, fill out this online form.
Cousins USA offers hassle-free apartment moving services."
Cousins USA is your premier Fort Lauderdale area moving company. With 25 years of experience as a family-owned and operated company, it's no wonder why we are so trusted. For a move with peace-of-mind, choose Cousins USA as your apartment movers.
Our Apartment Moving Services
Apartment moving can be complex, which is why we want to be there for you every step of the way. Cousins USA is a full-service moving company with the tools to make the moving process simple for you. Whether you're moving into an apartment or out of an apartment, locally or long-distance, Cousins USA is here to provide you with:
Professional packing and unpacking services
Secure warehouse storage with 24/7 surveillance and climate-control
Flexibility to move off-hours if your landlord has certain rules on move-out or move-in times.
Specialty moving services including last-minute moving and antique moving.
When moving apartments, don't go with any moving company, go with the moving company that you know is built to handle what you need. Go with Cousins USA as your Fort Lauderdale area apartment movers.
What to Know for Your Apartment Move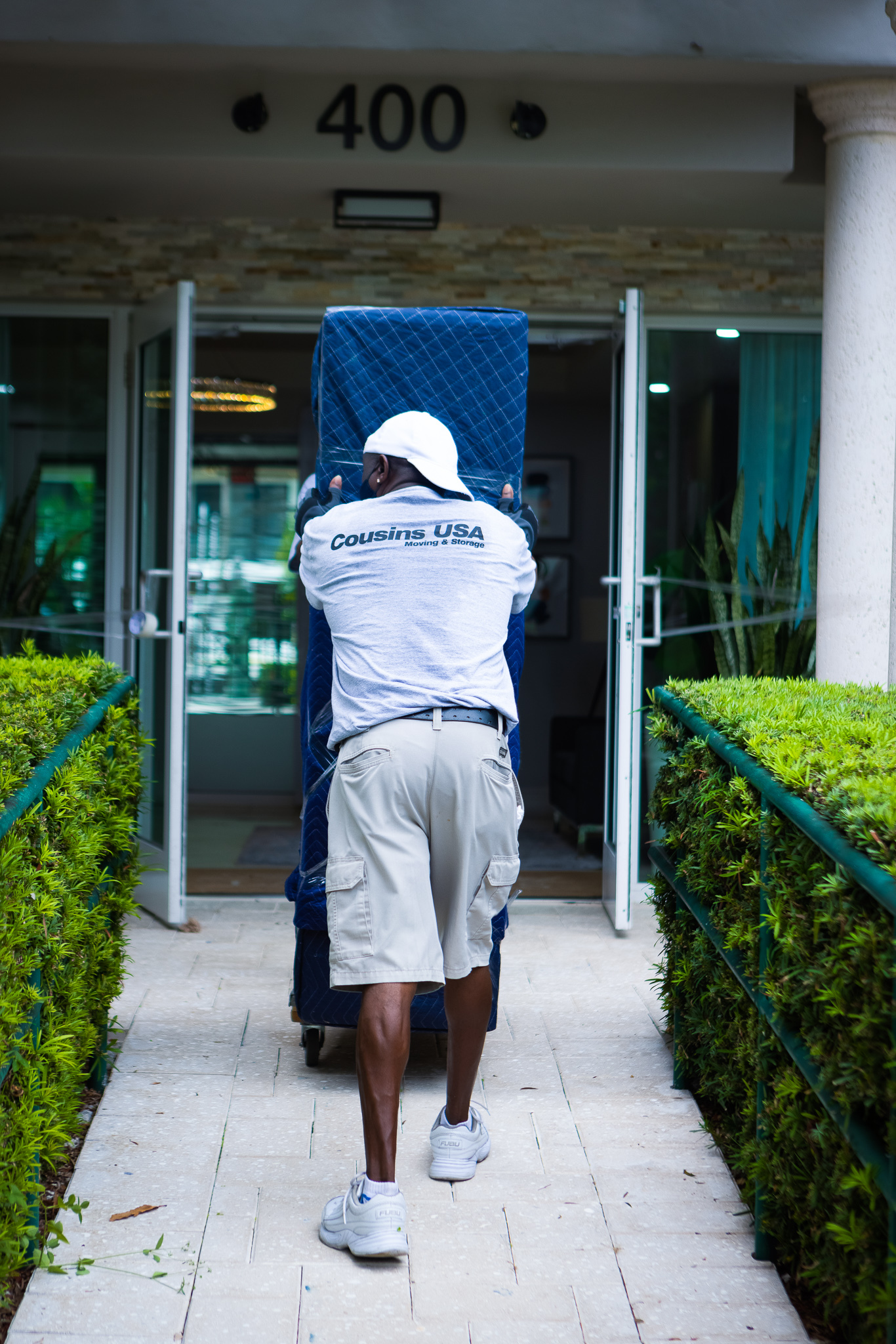 Most of the time that people talk about moving they are talking about moving out of and into houses, not apartments. Rarely will moving tips blogs and pages reference apartments. That's why we put together some of the top things to know for your apartment move:
Look into whether there are move-out fees for your current apartment. These are most common in high-rise apartments. For moving into an apartment, be sure to ask about move-in fees. Both of these fees are typically non-refundable.
Ask your landlord about elevators. This goes for both moving in and moving out. You may be able to reserve the elevator for a few hours, but this varies depending on the size and layout of the building.
Get utilities set up early. Some utility companies allow you to turn your utilities on day-of, but many require the set up process to be done in advance.
In the end, the key to moving in an apartment is staying on top of everything and doing all of the research that you can. Every lease is different and every apartment is different, so get prepared right away.
Get Your Apartment Moving Estimate from Cousins USA
From our expertly-trained, background checked crew to our dedication to customer service, Cousins USA is truly built to give you a stress-free move. Be sure to choose Cousins as your South Florida apartment movers.
To learn more about our apartment moving services or to ask any questions, reach out to us at (954) 792-6650. If you're planning your move, be sure to get your free estimate today!