Palm Beach County Movers
Awarded an A+ rating from the Better Business Bureau, Cousins USA stands as the most trusted name in moving and storage in Palm Beach County. Throughout the 20 years we've been in business, we've helped local residents with moves of all kinds through the use of our expert practices in local moving, warehouse storage and specialty item shipping. We make the effort of taking care of every aspect of your move from beginning to end so that you can enjoy yourself and know your belongings are being handled by one of the premier moving companies in Palm Beach County.
Moving to Palm Beach County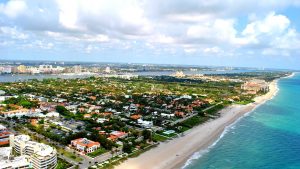 Through its oceanic setting and tropical weather, Palm Beach County, Florida is the perfect area for those looking to enjoy the most sun-kissed side of the state. Located on a 16-mile long island barrier, the city sits between the Atlantic Ocean and the Intracoastal Waterway, allowing County residents access to the countless beaches and marinas that are open year-round for water sports, swimming, and lounging in the sand. For even more recreation and sightseeing, visitors can take part in everything from browsing through the extravagant department stores, eating exquisite seafood at one of its many celebrated restaurants, playing 18 holes at the Palm Beach Golf Center, or simply taking a stroll past the beautiful homes on Worth Avenue or along the waterside at the Lake Worth Lagoon Trail. These incredible attractions draw interest from the other Palm Beach County residents living in nearby cities such as Royal Palm Beach and Greenacres.
Royal Palm Beach is South Florida paradise located within the Palm Beach County lines. Like most places in Florida, it's filled with fun-in-the-sun attractions, while maintaining a family-friendly atmosphere. Moving to this small South Florida paradise offers you a close drive to the beach and a short night walk to your local bar. Additionally, this city is an inclusive environment offering a host of local activities, meetings, and hearings you can be a part of. The city of Royal Palm Beach is the perfect place to move if you're looking for beach filled days and community inclusive events.
Greenacres is another one of Palm Beach County's beach front delights, and like any other place, it has its vast array of attractions. For this place specifically, however, if you're a parent you may be drawn to Greenacres. Greenacres has an impressive array of elementary and middle schools all leading to the John I. Leonard Community High School. Such a large variety of schools in a small radius offers choices and options rarely found in other cities. Aside from its educational appeal, this small city is a part of Palm Beach County's tightknit community, sharing in its comprehensive list of family-filled events and activities.
Palm Beach Moving and Storage
Trust the team at Cousins USA to handle your move to Palm Beach County. Every move with Cousins USA will be a great move. Trust our experienced professionals to guide you through your next moving process. When you work with us you can count on your move being quick, simple and done right, and we offer the high-rated moving and storage services in the Palm Beach County area at an affordable price. To learn more about our Palm Beach County moving company and to receive a free, no-obligation estimate, fill out our online form today or feel free to give us a call at (954) 792-6650.