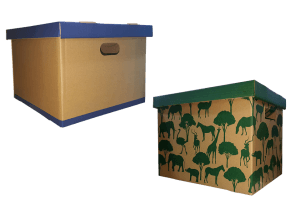 Prior to any move, organizing your belongings can give you a serious leg up on the situation. Understanding what you have, what you no longer use, and what you no longer need can help minimize the number of items transported. This in turn, can save you time and money regarding shipping and handling costs. This relocation checklist will help you take inventory of your belongings and guide you through the packing process.
One of the best moving tips and tricks is to take the packing process room by room. Again, this will help you get a visualization of exactly what you are dealing with. So, if your cleaning out the kitchen, store all food items together, while plates, bowls and other utensils can be placed aside for their own box. The same can be done for bedrooms. Set aside clothes according to their seasonal use and store them in properly marked boxes once everything has been accounted for. Along with these packing tips, the way you go about placing your materials into the boxes can also impact your moving experience. Always make sure the heaviest items are placed on the bottom of the box. This will help avoid damage to other possessions. Once all your items have been stored away, do not be shy with the packing tape. The more secure the box is, the safer your belongings will be. If you're choosing to hire a moving service, make sure employees are following these moving tips to ensure the safety of your belongings.
List of Things to Do When Moving
Below are some rules that can be used as part of a household moving checklist or an apartment moving checklist. Generally, if you enlist the help of a moving service, especially in Fort Lauderdale, Florida, you will be responsible for handling and transporting the following items:
Manage all money, coins, jewelry and important documents yourself
Non-transportable flammable, corrosive or explosive materials such as aerosol cans, fire extinguishers, paints, paint cleaners, ammonia and bleach.
You will also need to manage your alcohol. Most movers are not permitted to transport open bottles.
Anything that is being transported and has a gasoline-powered engine must be emptied of oil and gas to prevent fumes.
Outdoor equipment, like garden hoses, should be drained and connected at both ends to prevent leaks.
If you're planning on moving ceiling fans, light fixtures, drapery rods, or any other items attached to a wall, you will be responsible for taking them down for the movers to pack.
Most moving companies are not permitted to enter an attic, so be sure to relocate items found there to the ground floor for moving.
Any trash receptacles or barbecues you plan on transporting must be washed prior to the move.
Empty and defrost your refrigerator and freezer as some moving companies are unable to transport food items.
Moving Checklist for Fort Lauderdale, Florida
Now that you've familiarized yourself with some of the top packing and moving tips, you can take the next step at hiring the right moving company for your situation. Before picking your client, be sure to inquire about their rates, services and reputation among the community. Also, many moving companies provide their own useful moving checklist to help you prepare for your new fresh start.