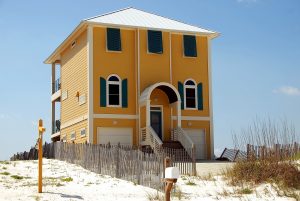 If you're moving into your first house, there's no doubting the excitement you're probably feeling. There are so many things to think about when it comes to being a first-time homeowner. You must find property in a neighborhood that fits your needs; go through the process of making an offer and finalizing the sale of the home; make arrangements to set up utility services; and if you're renting, all of this must be done by the time you have to be out of your old place. It may seem overwhelming to start planning your actual move on top of all of that, but it doesn't have to be. We're offering first-time homeowners a few simple tips that will take any hassle and stress right out of your upcoming move.
First-Time Homeowners Program
Navigating the process to becoming a first-time homeowner can be a murky path involving technical financial terminology, mortgage rates, and piles of paperwork to read and understand.
Navigating the process to becoming a first-time homeowner can be a murky path involving technical financial terminology, mortgage rates, and piles of paperwork to read and understand. Thankfully, there is assistance available to help the first-time homebuyer afford their new mortgage. Here is a short list of some mortgage and loan resources that can be a great help for first-time homeowners:
FHA

A FHA loan is insured by the Federal Housing Administration, and is a mortgage which requires mortgage insurance to protect the lender in case of a default. These loans are great for first-time homeowners because they offer low down payments, and can be used by people who don't have a great credit score. Another way that FHA loans can be a smart option for first-time homeowners is by allowing for forbearance periods and deferrals.

203(k) FHA

This loan program is a great option for a first-time homeowner looking to purchase a fixer upper and make it into the home of their dreams. The FHA 203k allows buyers to take out a loan for the purchase and improvements of their new home with the same loan. If you choose this route, be sure you hire contractors who are experienced with the program and be aware of the timeline of your construction.

Veterans Affairs (VA)

Veterans Affairs mortgages are available to active-duty men and women of the United States military, active or not. These loans can come with no down payment and don't require mortgage insurance.

USDA

Through the United States Department of Agriculture, if your targeted property is located in a rural area, you could qualify for this zero down payment mortgage program.

Good Neighbor Next Door

This program is offered by the Housing and Urban Development and provides aid to teachers, law enforcement, and firefighters. Certain areas known as revitalization areas qualify for this specified aid which can dramatically reduce the cost of the home. A list of properties that qualify for this program can be found here.
Downsizing Your Home
One of the most exciting parts of moving into a new house is the prospect of getting to decorate it any way you want. It is tempting to go out and buy a lot of new decorations and furniture before you move in so you can arrange everything right away. Keep in mind that a large part of the cost of moving comes from the weight of all your items. Having more items means more weight, which makes transportation more expensive. When it comes to decorating your new home, especially with respect to buying furniture, it's best to wait until after you've moved in to do most of it. In fact, if you're planning to replace older furniture that's in sellable condition, have a garage sale before you move out and use the money toward purchasing new furniture online. If any furniture is not in sellable condition, you can still donate it to a local charity. This way, you can schedule deliveries for after you move while simultaneously getting rid of the heaviest items in your home before you move.
Decluttering Your Home
Decluttering your current home is a great way to prepare for a move and cut moving costs. Sit down and determine what you really want to bring with you, try limiting it to the things you use on a weekly basis. The decluttering process will be much easier if you can manage to sell or donate your older furniture. Decluttering will make packing easier, and significantly cut down on the packing and unpacking time spent during your move.
Hire the Pros
Many people mistakenly equate professional moving companies with high price tags. Professionals have years of experience which makes them better equipped to prevent item damage and optimize available time during a move. Moving companies can also offer long or short-term storage options in case you find a need to store some of your belongings. If you plan ahead by removing heavy furniture, packing properly, and decluttering your home, you will cut down the cost of hiring professional movers.