In-State Moving Company
Quick Read
You need a Florida in-state moving company that you can trust. For this, you need movers that offer a wide-variety of services. Cousins USA makes your move simple by offering:
Moving Services to Take You Anywhere in Florida
Full and Partial Packing and Unpacking Services
Warehouse Storage With 24/7 Surveillance
Specialty Moves Ranging From Antique Moving to Last-Minute Moves and More
Here are some of the top reasons why you should move with Cousins USA:
25 Years of Experience
Family-Owned and Operated
Fully-Licensed, DOT# 70719
In-Depth Buyer's Guide Available
Give us a call at (954) 792-6650 if you have any questions about how our services can help you. Be sure to request your free quote today!
Relocating from one end of Florida to the other is a long move, so you need a moving company that can handle it. Cousins USA is the Fort Lauderdale moving company that you can trust for moves of all sizes. With our 25 years of experience, we know exactly what you need for your move and we offer those services alongside our top-quality customer care.
Services for Florida In-State Moves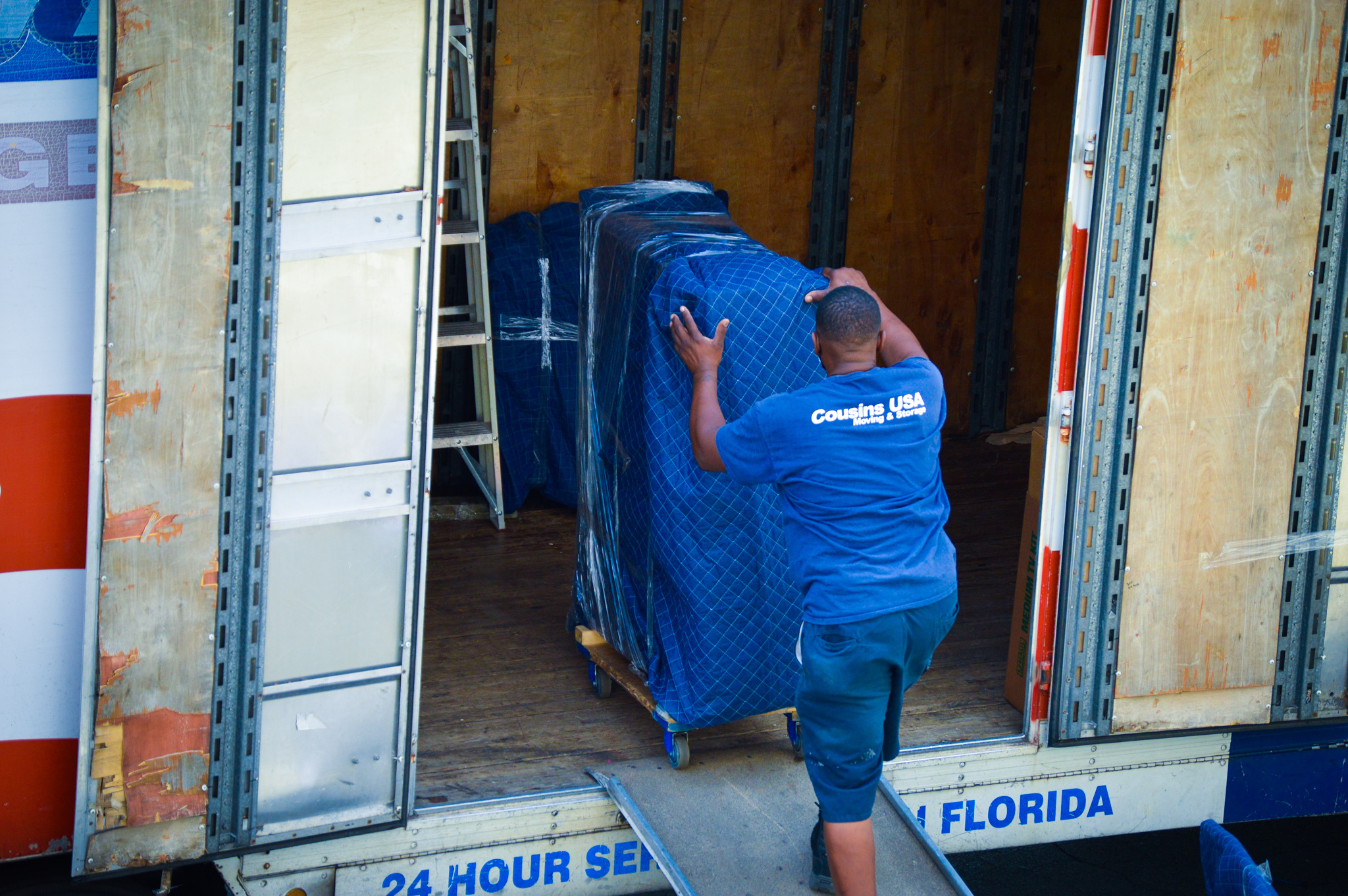 When looking for an intrastate mover, make sure that you consider the services that they provide. Go with the moving company that doesn't just have the moving services you think you need, but also the ones that you may end up needing during the moving process. Cousins USA is the full-service moving company you can trust for your Florida in-state move because we:
Have the ability to move you anywhere in Florida, from Key West to Jacksonville.
Provide both packing and unpacking services.
Have secure, climate-controlled warehouse storage options.
Are trained to handle specialty moves including piano moving, gun-safe moving, and more.
These services are built so that they can be tailored to perfectly fit what you need for your move. Going with Cousins USA means going with peace-of-mind.
Tips for Choosing an In-State Moving Company
Choosing a moving company is always difficult. There are a ton of things to consider and many movers to choose from. The truth is, most of those moving companies aren't right for you. We put together this list of helpful tips for choosing a Florida in-state moving company so that you can whittle down your options:
Get recommendations from friends and family. You won't be able to get a better suggestion than from someone you know and trust.
Read all of the online reviews that you can. While recommendations from people you know are tough to get, there are plenty of online reviews to sort through. These may not hold as much weight, but Google and Yelp reviews will give you insight on how a moving company treats its customers.
Make sure they can handle both local and long-distance moves. While in-state moves may not fall under the definition of long-distance, which means that the move crosses state lines, the fact that a moving company can handle a long-distance move means that they can handle a long in-state move.
Ensure that they are fully-licensed and insured. You should be able to find license numbers at the bottom of a mover's website. Our DOT number is 70719 and our MC number is 87113.
Look at the badges on their site. This will show you how trustworthy a moving company is. You'll see in the badges on our site that we are A+ rated by the BBB, an interstate agent of Wheaton World Wide Moving, that we are certified by the American Trucking Association Moving & Storage Conference, and that we are proud supporters of Move for Hunger.
By keeping in mind these tips throughout your decision-making process you will be able to have a stress-free moving experience. Don't settle for less for your intrastate move.
Get Your In-State Moving Estimate From Cousins USA
Cousins USA is your answer for a smooth in-state transition. We are a family-owned and operated moving company with 25 years of experience, dating all the way back to 1996. Our experience and dedication are what allows us to perform efficient and effective moves for the South Florida area. For your relocation, go with Cousins USA.
To ask questions or learn more, we are just a call away. We can be reached at (954) 792-6650. If you want a free estimate for any of our services, please fill out this online form.