Loading and Unloading Services
Quick Read
Looking for loading and unloading services in the Fort Lauderdale area? Look no further than Cousins USA. Here is some of what we offer with our loading and unloading services to make your move great:
Work with Storage Units, Moving Trucks, and PODs
Crew Trained to Handle Fragile and Heavy Items
Move from Houses, Apartments, and Condos
Can Maximize Truck Space When Loading
Here are some of the reasons why you can trust Cousins with your loading and unloading services:
Family-Owned and Operated
Trusted Since 1996
Fully Licensed, IM #: IM256
Fully Insured, General Liability/Workman's Comp
Curious about our services and want to learn more? Reach out at (954) 792-6650. For a free estimate, fill out this simple online form.
In today's world, you don't necessarily need a moving company to hire every little aspect of your move. Sometimes you just need professionals to come in and handle one or two aspects so that you can take care of the rest.
A common service that people need is loading and unloading. This is a great option for those getting a rental truck or those who just need one or two particularly difficult-to-carry items loaded or unloaded.
Your best option for this is Cousins USA. We provide labor-only services with professional quality to give you an easy transition to your new home.
Services for Loading and Unloading with Cousins USA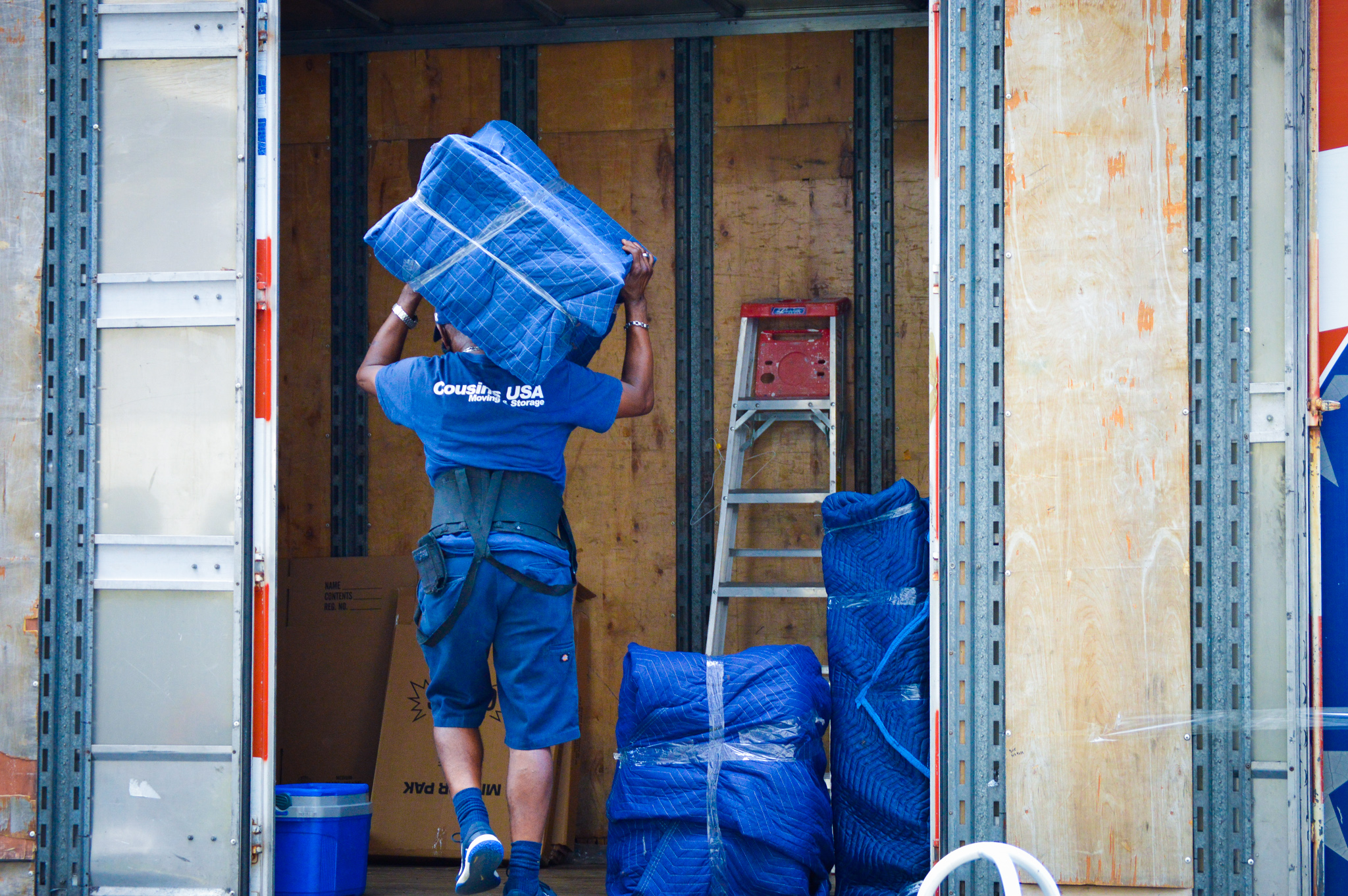 Our goal here at Cousins USA is to provide you with everything you need for a successful move. Here are some of the things we offer for great loading and unloading services:
Have the ability to load and unload into or from your storage unit, moving truck, or POD.
Expertly train our crew to handle even the most cumbersome and even the most fragile items without any damage.
Can move items from houses, condos, and apartments.
Are able to maximize truck space through our loading experience.
Our goal is to make your move great. Let us handle the heavy lifting for an easy moving process.
How Loading and Unloading Services Can Help You
You may be wondering whether reaching out for professional loading services or unloading services is the best option for you. Here are a few of the reasons why Cousins USA loading and unloading can make moving simple:
Avoid injury from moving heavy items.
Save time with efficient loading and unloading services.
Perfect for those who are new in town and haven't met anyone who can help yet.
These are just a few of the ways that Cousins USA can help you. For worry-free Fort Lauderdale moving, trust Cousins.
Get Your Fort Lauderdale Loading and Unloading Estimate
Having been in the moving industry since 1996, we've learned a thing or two about great moving. You need professional moving help that you can trust to supplement your move. That's why Cousins USA is the best choice. We're family-owned and operated, fully licensed (IM #: IM256), fully insured (General Liability and Workman's Comp). You can feel comfortable with Cousins.
Get your free estimate on loading and unloading services today! All you have to do is fill out a quick online form and we'll reach out to you. If you want to learn more or have questions about what we offer, give us a call at (954) 792-6650.