Apartment & Condo Movers
For those planning an apartment or condo move to or from the South Florida area, make Cousins USA Moving & Storage your first call. We have been providing full-service apartment and condo moves to residents throughout South Florida since 1996, making us one of the most trusted industry names around town. As such, we have developed specialized services for apartment and condo moves that are designed to make your move day easy, smooth and stress-free.
Expert Apartment & Condo Moving Crews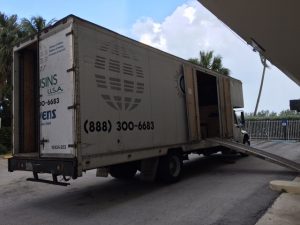 Through our nearly 20 years of experience as a professional apartment and condo mover in the Fort Lauderdale area, we've succeeded by ensuring our customers are as informed as possible before they move. This prevents any unforeseen move day surprises that could slow things down. We've helped everyone from college students moving to apartments on campus, to retired seniors who have bought or rented condos to enjoy a warmer climate once the kids have moved out.
Our professional crews of apartment movers and condo movers in the Fort Lauderdale area will work closely with you to work around any time restraints, and they will also help you organize and prioritize your belongings, since moving to an apartment or condo typically means you have less space than a house. Once your entire move is planned, our movers will pack, load, transport and unload everything for you to ensure a damage-free delivery.
What to Know for Your Apartment or Condo Move
Moving to or from an apartment or condo is different than moving from home to home. Apartment buildings and condo complexes will often have their own set of moving rules and regulations, and some may even charge you a moving fee. Cousins USA Moving & Storage recommends the following tips for a smooth and successful apartment or condo move in the Fort Lauderdale area:
Find out if your complex requires any moving fees or damage deposits prior to moving. If they do, how much?
Be sure to ask about any moving day restrictions. Some complexes don't allow moving on the weekends. Some allow moving ONLY on weekends.
Seek out information on your complex's rules for discarding moving debris. Will you need to rent a dumpster?
Does your complex have an elevator? Movers will need to know this for moving more cumbersome items. Also, some complexes may require you to reserve the elevator on your move day.
Of course, any additional questions or concerns you may have about your apartment or condo move can be answered by our friendly and courteous staff. They have extensive knowledge on how to successfully complete any kind of move, and are standing by to assist.
For more information on our apartment moving and condo moving services in the Fort Lauderdale area and all of South Florida, please fill out our form to receive a free quote.