Moving From Fort Lauderdale To New York
Quick Read
If you're moving from Fort Lauderdale to New York, hire a company you can trust. Cousins USA Moving & Storage has been serving South Florida since 1996 with services including:
Long-distance moving
Warehouse storage and concierge storage
Specialty item moving
When you're hiring movers to take you from your Fort Lauderdale home to your new place in New York, make sure that the company you're entrusting with your belongings is:
Fully licensed and insured
Experienced, professional and highly-rated
Registered federally to conduct interstate moves
Contact Cousins USA today if you're looking for a mover to take you from Florida to New York. Call us at (888) 300-6683 or use this form to get started.
Are you moving from South Florida to New York and looking for a full-service moving company to take you there?
Cousins USA Moving & Storage is the South Florida answer you're looking for.
We'll devise a plan to help you with your move, from giving you an in-home estimate through unloading the truck in the Big Apple.
We'll pack up your Fort Lauderdale residence and deliver it to your new New York apartment, condo or house. Our family-owned company specializes in New York moves, and we are one of 500 agents for Wheaton World Wide Moving, which strengthens our network around the country.
Leaving Fort Lauderdale For New York
Research shows that Florida is still a top choice of locale for people leaving the Empire State. But some Floridians are planning on moving up the East Coast, seeking new opportunities in New York.
Moving across the country is a big change, which is why you should hire professional movers to help you plan and execute your house move.
Moving to New York from Fort Lauderdale presents a lot of financial considerations. For one, your tax burden will likely be higher.
The overall cost of living is higher in New York than it is in Florida, according to the Council for Community and Economic Research. Nerd Wallet calculated some cost of living comparisons.
Housing costs may be more than double.
Utilities are higher by 58 percent on average, according to BestPlaces.net.
Food and groceries are about 8 percent higher, but depending on your diet, you may see some savings. Milk and bread are slightly less expensive.
However, income in New York tends to reflect that higher cost of living.
Keep in mind that in New York, you will have to pay state and city personal income taxes. If you're accepting a job offer in New York, make sure you know how far your income will go.
Still many people find that when they crunch the numbers, they can afford to make the change. After all, who wouldn't want to get the chance to say, "I'm moving to New York!"
The big difference is a difference in lifestyle. Of course both Florida and New York have top dining, shopping and entertainment options. New York has four seasons, which means skiing and fall color tours. Florida, with beaches and theme parks, has year-round warm weather, and that's the reason it's a top tourist destination. But it also has sometimes dangerous storms.
New York has a lower crime rate than Florida according to FBI reports.
Schools are another concern for parents. New York public schools are ranked in the top 10, while Florida comes in 29th overall.
Statistics and considerations aside, this isn't about numbers, this is about you! If you want to move from Florida to New York, Cousins USA is the moving company that can take care of your move.
Planning Your Move From Fort Lauderdale to New York
When you're planning your move, be sure to hire a highly rated mover with experience. Cousins USA is an agent of Wheaton World Wide Moving and A+ rated by the Better Business Bureau.
For cross-country moving tips, the federal government provides the pamphlet, "Protect Your Move." It offers these tips for planning your move.
Make sure your mover is fully licensed and insured.
Ask for recommendations from neighbors, friends, and relatives regarding the mover.
Check out your mover's licensing and record with the Federal Motor Carriers Safety Administration (FMCSA) at this link.
Obtain the booklet Your Rights and Responsibilities When You Move from the mover.
Do NOT sign blank or incomplete documents.
Make sure you understand the type of liability you agree to. Ask yourself if 60 cents per pound is enough coverage.
For more tips on planning a move, visit our Buyer's Guide for Household Moves and Moving Glossary for terms.
Supervise the process.
If you a planning a move from Florida to New York, get a free estimate from Cousins USA.
Cousins USA will provide you with:
A free, no obligation estimate for your state-to-state move.
Free disassembly and transportation of your furniture. We'll also reassemble it at your new home.
Expert packing and unpacking services, for an additional fee.
25 free moving boxes and a calculator to help you determine how many more you'll need. We sell moving boxes, packing paper, tape and other packing supplies.
Storage: If you are not ready to move all your belongings with you to New York, you can keep them here in our warehouse, where they will be monitored and kept in a climate-stable environment until you are ready for them.
Here are four things to do after moving to New York:
Get a New York driver's license, unless you plan to live in the city, use public transportation and sell your car. And don't forget to register to vote.
Buy a coat. The types of jacket that served you well in Florida's mild winters are good for fall in New York and late spring. However, to feel warm and comfortable in the snowfall, spring for a down coat, gloves that are rated for lower temperatures, and, of course, a hat.
Pick up the pace: People move fast in New York. They talk fast and may seem to have little patience, but that's not true. We've found New Yorkers to be friendly. It just takes a little getting used to.
Learn the lingo and lay of the land: People in New York talk about places in terms of city intersections and subway stops. There's nothing wrong with this, but you'll have to quickly adapt to a new culture unless you want to feel like an outsider.
Get A Free Moving Estimate From Cousins USA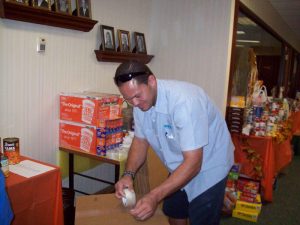 Planning your move is an exciting time. Be sure to hire the best movers. That's Cousins USA.
Give us a call today with any questions you may have about moving from Florida to New York. We'll set you up with a free estimate and a moving coordinator.
Call us (888) 300-6683 or use this form to get started