Military Movers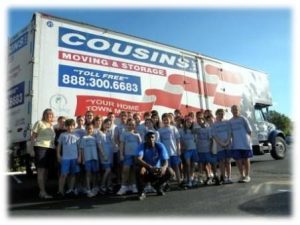 Are you in need of a reliable moving company to assist you with your military move to or from the Fort Lauderdale/South Florida area? If so, Cousins USA Moving and Storage is the perfect choice to make your moving experience as smooth and stress-free as possible. Since 1996, we have been a trusted moving company for military . We are fully licensed and insured and ready to provide quality, expert services to ensure a safe move for you and your family. Customer satisfaction is our goal, so choose Cousins USA Moving and Storage to help with your military move.
Trusted Military Movers
At Cousins USA Moving and Storage, we know the members of our Armed Forces make many sacrifices including frequent moving. As a family-owned and operated Moving and Storage company, we treat each move as if it were our own.
Requesting a Military Move
Cousins USA Moving and Storage is grateful for the service the men and women of our Armed Forces provide. To show our appreciation, we want to give you and your family the best moving experience possible. If you have any questions about our military moving and storage services in the Fort Lauderdale and South Florida area, please contact us at (954) 792-6650, or get a free online estimate by filling out our online moving form.