How to Choose a Moving Company
The moving process can be complex, but with the right movers, it's a snap. Finding the right South Florida moving company is important for a smooth relocation, but it can be difficult to know where to start. Luckily, our 25 years of moving and storage experience have taught us the ins and outs of the industry. We want to use that knowledge to help you.
We put together this guide so that you can get by if you're stuck on deciding between different "movers near me" or if you don't know where to start looking. This in-depth guide is your best bet for making an easy decision on the right movers for you.
1. Gathering Your List of Movers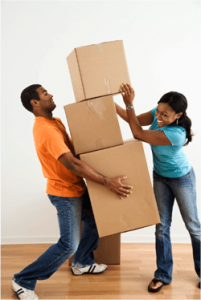 To start your decision-making process, you will have to find your options. Having a bigger list means that you will have to spend a little more time whittling it down to your final decision, but you will be more confident in the moving company that you end up with.
To put together your master list, follow these steps:
Speak with your friends and family about moving companies that they have worked with. These can go straight on your list.
You can also add the names of moving companies that you have heard about from seeing their trucks. When you start this process, start keeping an eye out for moving trucks and you may have a couple more to look into.
An efficient way of finding moving companies is by searching online. While you can look up words like "movers" and "moving companies" in Google, it can be helpful to be more specific. By looking things up like "antique movers" or "last-minute movers", you can find moving companies who may be better suited for what you need.
With this list in hand, you'll be ready for the next step!
2. Narrowing the Field
Now that you have a list, you can start figuring out which moving company is right for you. The best way to do that is to figure out which movers aren't what you're looking for and take them off your list, leaving only your top options.
Go through each moving company and ask yourself the following:
Are They Fully-Licensed? Check their US DOT number as well as any local license. In Florida, you should look for an IM number. Our DOT number is 70719 and our IM number is IM256.
How Are Their Reviews? By looking at online reviews, you can see what past customers' experiences are with the movers. Be sure to look at the number of reviews that a moving company has.
What Do My Friends and Family Have to Say About Them? If you got the name of a moving company to put on your list from a friend or family member, you can ask them about their experience. This carries much more weight than an online review since it comes from someone you know that you can trust.
Are They a Local Company? There are big names that you may know in the moving industry. The truth is, it's better to go with a truly local company. A national brand isn't going to give the level of care to your move that you deserve.
How Much Experience Do They Have? If a moving company is new, they don't have the experience needed to understand what people need. Our 25 years of experience have taught us exactly how to handle each move.
Are They Associated with a National Van Line? Here at Cousins, we are proud to be an interstate agent of Wheaton World Wide Moving. With hundreds of agents coast to coast, you can be guaranteed satisfaction no matter where you move.
What Badges are on Their Site? These tell you a lot about a moving company. For example; our BBB badge shows that we are an accredited business, our ATA badge shows that we are ProMover certified by the American Trucking Association: Moving and Storage Conference, and our Move for Hunger badge shows our dedication to helping the community.
With these in mind, you will know what you're looking for and be able to take off the moving companies that aren't right for you. It's okay to be picky, you deserve the best for your move!
3. Final Decision
If you don't have as much to move, you may be able to move yourself, but if you have a house full of items to pack and move, you will want to hire a moving company.
Once you've narrowed your list down to just a couple of moving companies, you can get your estimates. To do this, follow these steps:
Contact at least 3 moving companies to get estimates. This way you can compare the price with the services that you will be receiving and use that to help make your final decision.
Ensure that, while getting your moving quote, they do an in-depth survey of your home. Avoid any moving company that gives out an estimate over a phone call without seeing your items.
Ask about virtual options. With the new standard of operating remotely, more moving companies are offering virtual options to get your moving estimate. For example, at Cousins USA, we offer thorough surveys of your home over video chat, right from your mobile device.
Here at Cousins, we understand the need to get multiple estimates. That's why we offer our estimates for free! You can get yours by filling out this online form.