Fort Lauderdale Moving Checklist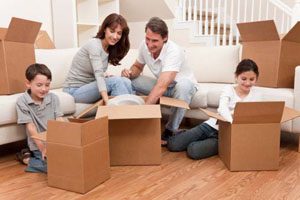 Cousins USA Moving & Storage offers these moving tips to ensure a stress-free move for your family or business. Download a printable copy of our Moving Checklist.
The following items should be handled and taken care of by the customer:
You should plan on transporting all valuables yourself. This includes money, jewelry, coins and important documents.
You must also transport all flammable, explosive or corrosive items. This includes aerosol cans, fire extinguishers, paints and paint cleaners, ammonia and bleach.
Please see the "Non-Transportable Items" section for a complete list.
You should handle transportation of all types of wine. It will be at the driver's discretion to take other forms of alcohol on the moving van, but Cousins USA cannot take any open alcohol containers.
Gasoline-powered engines must be emptied of oil and gas. Gas cans should also be washed out to avoid any fumes. If automobiles are being transported, the gas tank should be 1/4 full or less. The oil level in the automobile should remain at normal level. Additional accessories with the automobile will not be permitted.
If you are planning on moving a garden hose, drain as much of the water out as possible and connect the two ends of the hose together to avoid any potential leakage.
Items attached to walls or ceilings, such as ceiling fans, light fixtures, drapery rods, etc. should be taken down so the movers can pack and ship them.
Residence damage liability prevents us from being able to access areas such as attics, so any items located in an attic or overhead storage should be brought down to floor level. This should be done prior to the packing or loading day of your shipment.
Prior to loading day, trash cans and barbeque grills must be free of debris and washed out
Your refrigerator and freezer should be emptied and defrosted prior to loading day. Due to restrictions beyond our control, Cousins USA Moving & Storage cannot transport any frozen or perishable foods.
Moving Reminders
Beds will be disassembled and loaded last. You can stay in your own home until the day of loading.
Be sure to pack any customer-owned telephones. This is should be done at the last possible moment.
Change of address forms should be sent to the post office and take care of transferring any current subscriptions.
Do not leave valuable or important papers, such as insurance policies, to be packed with the household goods.
Notify the gas, electric and phone companies to discontinue service once the load has been completed.
Have children's records sent to their new school. Also, be sure to obtain health and dental records.
The appropriate authorities at State and City departments should be notified regarding the transfer of any motor vehicles.
Non-Transportable Items
Combustible Liquids
Corrosive Liquids
Rubbing Alcohol
Acids
Antifreeze Compounds
Rust Preventative
Disinfectants
Bleach
Household Batteries
Darkroom & Pool Chemicals
Explosives
Flammables
Black Powder
Adhesives (Glues, Cements)
Aerosol Cans
Fireworks
Ammonia & Cleaning Fluids
Ammunition (any kind)
Gases, Compressed
Hand Signal Flares
Gases Used in Welding
Kerosene
Scuba Diving Tanks (Unpurged)
Lighter Fluids/Charcoal/Sterno
Propane Tanks (any kind)
Matches
Fire Extinguisher
Oil-based Paint Removers
Stain, Lacquer, Varnish
House Plants
Paint Thinners
Liquid Polishes
Automobile Batteries (Not Part of Auto)
Any Type of Combustible Cleaning Material
Dynamite, Plastic, or Similar Explosives
Weed Killer (pesticides in general)
Gasoline/Diesel Fuel/Motor Oil
Any other hazardous materials as defined by the U.S. Department of Transportation (49 CFR 100-185). It is recommended that all food items, whether they are fresh, frozen, dried or canned, be considered as perishables and excluded from shipping.
Please note that Cousins USA Moving & Storage is not liable for loss or damage to documents, currency, money, jewelry, coin collections, stamp collections or collections of any type, as we cannot accept these items for shipment. It is necessary that you make other arrangements to transport these goods.
Be at home and make yourself available to the movers the entire day of packing. Packing times may vary depending on the amount of packing that is required for your move.
For the comfort of the children and convenience, it is often helpful to have them stay with friends or relatives during the relocation process.
Pack day is the perfect day to empty and defrost your refrigerator.
For high-value items, such as silver, works of art, etc., Cousins USA recommends that you make yourself available to view the packing of these particular items. Do not expect items such as money, jewelry, coin collections, etc. to be packed, as noted above.
We cannot pack any perishable food items, flammables, aerosols, or corrosive liquids. Please refer to the "Non-Transportable Items" section for a complete list. Please make other arrangements to transport these items.
Set aside personal items you will be taking with you so the crew does not pack them accidentally. This includes all medications, important documents and any items needed while en route to destination.
Check drawers, cabinets, and closets in every room for items that may have been missed during the packing.
Make yourself available the entire day of loading.
Make travel arrangements for your departure for the day after loading.
Plan to leave all utilities on until the day following the loading of your household goods.
CHECK THE INVENTORY TO SEE THAT YOU AGREE WITH THE NOTATIONS MADE BY THE DRIVER AS TO THE PRESENT CONDITION OF YOUR FURNITURE. IF THERE IS A DISCREPANCY, PLEASE MAKE NOTE OF IT ON THE SAME INVENTORY SHEET.
HIGH-VALUE ITEMS THAT ARE BEING SHIPPED BY THE MOVERS, SUCH AS ANTIQUES, WORKS OF ART, ETC., SHOUlD BE NOTED SEPARATELY ON THE HIGH-VALUE INVENTORY, ALONG WITH THEIR VALUE.
Walk through the house, garage, and yard to make sure nothing has been missed.
On the day of loading, make sure the driver and your move coordinator are aware of how to contact you at all times.
TO ENSURE THAT EVERYTHING THAT WAS LOADED AT ORIGIN IS DELIVERED AT DESTINATION, YOU MUST CHECK OFF THE INVENTORY YOURSELF. COORDINATE WITH THE DRIVER TO CALL OFF THE INVENTORY NUMBERS THAT ARE ON EACH BOX AND PIECE OF FURNITURE THEN MARK THEM OFF ON THE INVENTORY AS CALLED.
CHECK THE CONDITION OF EACH ITEM AS CLOSELY AS POSSIBLE UPON DELIVERY TO YOUR HOME. THERE IS A COLUMN ON THE INVENTORY FOR YOU TO NOTE ANY EXCEPTIONS OR MISSING ITEMS. MUST BE DONE BEFORE DRIVER LEAVES.
Should you have any missing or damaged items, call your move coordinator as soon as possible and the coordinator will initiate the claim process and begin a trace on the missing items. Upon receipt of the claim form, complete it as soon as possible and return in the self-addressed stamped envelope. If you have any questions about completing the forms, do not hesitate to call your move coordinator.
Boxes that contain items of high value, such as silver, works of art, etc., SHOULD BE UNPACKED FIRST and checked for damage.
The driver is responsible for setting up the beds and reassembling any items that were disassembled at origin. This does not include hanging pictures or other permanent wall fixtures.
If you wish to have unpacking performed, please advise your move coordinator prior to delivery so arrangements can be made.
If Cousins USA does the unpacking, we are responsible for removing the empty boxes and paper. If you choose to do your own unpacking, debris removal may be available. Contact your move coordinator to ask about this service.