Packing Tips For Moving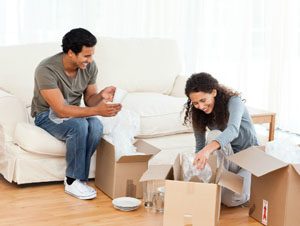 Ensuring your belongings are properly packed can help make your move go a lot more smoothly. If you are planning on packing yourself, Cousins USA Moving & Storage offers the following information and packing tips to ensure an efficient and stress-free move.
Preparing For Your Move
If there is room available, consider setting up a "packing headquarters" to use as a workspace.
Make use of large tables and heavy blankets or padding to create a good work surface. Be sure to keep all items organized in your workspace.
You will need boxes and packing materials such as: bubble wrap, tissue paper, packing tape, a marker, a pair of scissors and newspapers. Note: due to the ink on newspapers, they should be used for outer wrapping or cushioning only, so as to avoid the rubbing of ink.
Box Sizes
The boxes you use to pack are paramount. To minimize potential damage, make sure that your boxes are not packed too heavy or too light, as they can either break open or get crushed when stacked.
Note: As the size of the box increases, the weight of each item should decrease.
Specialty Boxes
"Best Practices" For Packing For Your Move