Senior Movers
If you're a senior moving to or from the Fort Lauderdale area or anywhere in South Florida, call one of the region's most trusted professional movers: Cousins USA Moving & Storage. Since 1996, we have served the residents of our community with world-class moving options and friendly customer service, and we are a go-to name for safely moving seniors, whether it's down the street or across the world. As a family-owned and operated senior mover in the Fort Lauderdale area, you can trust that when you move with us you get the personalized service and attention to detail expected from a hometown mover, coupled with the expansive knowledge and resources of a larger van line.

We Make Your Senior Move Easy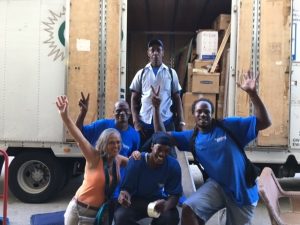 As professional senior movers, we know that no two moves are ever the same, which is why we work closely with each of our customers to create a service plan that is customized to fit their individual needs. Moving is a huge undertaking, and it requires the help of seasoned professionals to be successful. Cousins USA is a preferred mover for seniors because we make moving smooth and easy.
In our nearly 20 years as a senior mover in the Fort Lauderdale area, we've helped customers:
Move from their homes to retirement communities.
Downsize to a smaller home to save money and maintenance effort once the children have moved out.
Move across the country to be closer to family.
Move to a new home to move on from a lost loved one.
Whatever your reason for moving may be, our dedicated and courteous staff of senior movers will work diligently to ensure a timely and efficient move, and that all of your belongings arrive at your new home undamaged.
Our Senior Movers Will Protect Your Belongings
One of the biggest comforts we can give our customers is peace of mind. Nothing ruins a move quite like unpacking a damaged item, so exercising extreme care and caution while handling your belongings is our top priority. We accomplish this by meticulously packing, padding and organizing everything from your furniture to any fragile family heirlooms.
Senior Moving Program
Our comprehensive Senior Moving Program includes everything needed for a stress-free moving experience for seniors. Senior citizen customers can expect the Cousins USA standard of excellence, as well as a few extra perks. Our Senior Moving Program includes:
The Home Protection Kit – All of the extras needed to ensure your move is handled with the utmost care possible. The kit includes items such as moving pads, doorjambs and door protectors, banister protection, carpeting and hardwood protection.
Dedicated Moving Coordinator – A moving specialist will be assigned to your move and will assist you personally. They will be with you every step of the way: from the initial loading and packing, until the time your belongings are delivered.
Senior Certified Movers & Drivers – Your move will be handled by senior moving specialists. Each member of the crew will be someone with years of experience meeting the needs of other seniors. Our crews are always timely, respectful and efficient.
10% Off Local Moves – Senior citizens receive a discount on all local, Fort Lauderdale-area moves when they select our Senior Moving Program.
10 Free Rental Wardrobe Boxes – Moving your clothes closet will be easy with the inclusion of 10 free wardrobe boxes. These boxes are perfectly suited for moving most clothes, without even having to take them off the hanger.
Senior Moving Estimates
For more information on our senior moving services in the Fort Lauderdale area and all of South Florida, fill out our form and receive a free in-home estimate.