A Buyer's Guide For Household Moves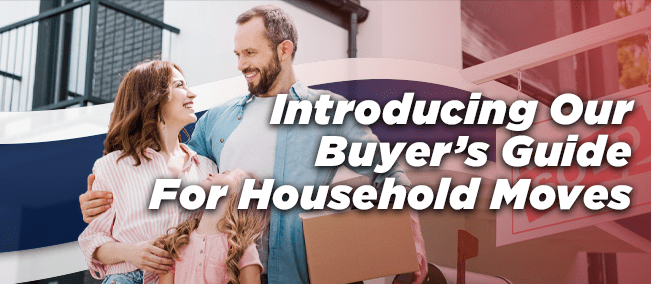 The average American changes their residence 11.3 times throughout their life. Ben Franklin said, moving three times is as bad as a fire. That 18th-century adage is no longer true — especially when you have professional movers like Cousins USA Moving & Storage by your side.
No matter if this is your first move or your fifteenth, we know moving is inherently stressful and can be downright confusing.
This guide will walk you through the top questions and concerns to ask when hiring a moving company and completing a move. We encourage your questions throughout the process. Most of the professional movers you will meet are down-to-earth people running a family business helping people like you.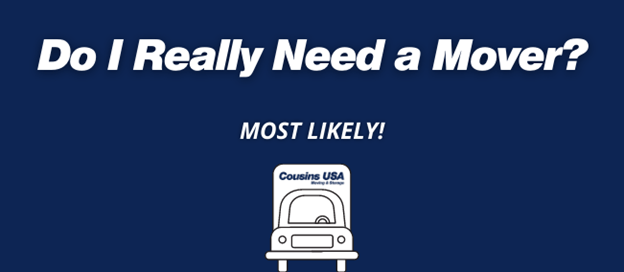 Do I Really Need A Mover?
You may think a DIY move is for you, but there are often tips, tricks and, most important, proper tools and equipment professional movers have access to that you may not. When deciding if you really do need a mover, take a moment to think about these three important factors.
How much does it cost to have someone move you?

The cost to hire a mover varies based on the inventory of your move and its weight.
Movers also charge an hourly fee for labor, which includes their travel time.

How much does packing cost?

According to HomeAdvisor, the cost to pack a home varies between $270 and $2,200, with the average being $1,000.
If you are hiring a pro to pack and unpack, the cost can run from $370 to $3,600.

Do I need insurance for my move?

The details of what your insurance covers depends on your policy. Moving and storage companies cannot sell insurance per se, but they can provide valuation options.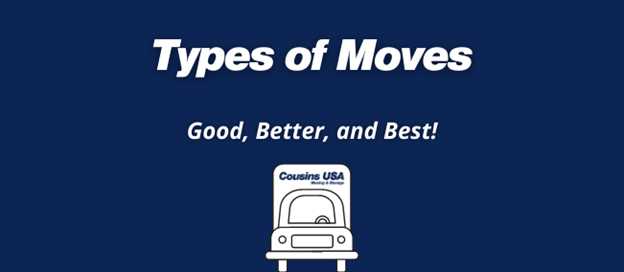 Types of Moves
DIY Move
Many people go this route, it includes packing, lifting, and transporting your own items. You will probably find it beneficial to rent trucks and dollies, especially for heavy items.
Labor-Only Moves
This is the middle ground between full-service and DIY moves. Hire movers for a few hours to help load/unload your goods. Labor only is a time and energy saver if you do not mind packing your own items but would like some help with the heavy lifting.
Full-Service Move
The works! Full-service moving includes furniture disassembly and reassembly. Just like the name says, it is full service. The customer does not need to lift a finger. Busy professionals often choose this option, as it takes the stress out of moving. Many companies also offer partial-service plans and customized moving plans.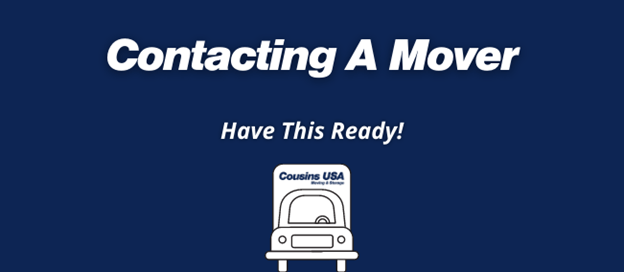 Contacting A Mover
What information to have ready before calling a mover:
Date and time of your move.
What services you will need: Will you need optional packing? Will you need storage or packing supplies?
Do you have any specialty items you plan to move?
Know your budget. How much are you willing to spend for moving help?
Fill out an online estimate form
Most moving companies will have an opportunity to fill out a free moving estimate form on their website. Once you narrow down the movers you are interested in using, fill out their online estimate forms to get a estimate on your moving cost.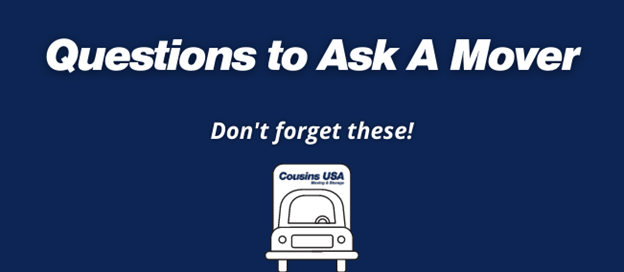 Questions to Ask A Mover
Do they provide boxes or totes?

What types of boxes will I need for my move?

How many boxes will I need for my move?
While it may be tempting to find cheap moving boxes or ask for boxes at the grocery store, as experienced movers, we recommend that you buy quality cardboard boxes that are designed for moving and which have the structural integrity to allow for stacking.
Do they supply totes? How many will I need?

What types of moving supplies do they offer (wardrobe boxes, moving blankets, dish boxes, mattress bags, flat-screen TV boxes)?

Can wardrobe boxes be borrowed instead of purchased?

Do I have to unpack my dresser drawers?

If it is a sturdy, well-made dresser being moved from home to home, you can leave clothes in the drawers.
Flimsy dressers should be emptied.
If you are moving it to storage, the drawers must be empty.

Which Items Are Movers Prohibited from Transporting?

Combustible liquids (rubbing alcohol, antifreeze, cleaning materials).
Corrosive liquids (acid, bleach).
Explosives (fireworks, ammunition, dynamite).
Flammables (aerosol cans, gasoline, kerosene, ammonia, propane, scuba tanks).
Food items (nothing perishable, subject to freezing or sold in a bag or box).
Plants (no live plants or soil).

Which Items Should I Move Myself?

Any of the items listed above if it is safe and legal to do so.
Important documents
Birth certificates
Passports
Mortgage papers and contracts
Laptop computer
Medications
Jewelry
Money and coins
Pets
Emergency kit
Moving company contract

Can a mover move a car?
If you have a collector car or a spare car in storage, you can discuss auto transport options with us.
Questions Your Cousins USA Moving & Storage Representative Will Need to Know
How many floors is your home?

We will make sure to bring the right tools and equipment and the correct number of crewmembers.
Stairs may add overall time to the move.
If your building has elevators, reserve one in advance.

Do you have a flat-screen TV?

We can build a box for it if you do not have the original.

Do you have antiques?

We will outline valuation coverage and discuss how to pack or crate the items.

Do you want someone to help you pack?
Do you want additional insurance coverage?

Valuation coverage is optional added liability insurance. If you choose full-replacement value protection, the mover will repair the article to the extent necessary to restore it, pay you for the cost of repairs or replace the article with an article of like kind and quality. Without this coverage, the mover is required to reimburse you for the item based on its weight, at 60 cents per pound.

Is your location accessible by our truck?

If your location is on a hill or in a hilly area, we will need to prepare.
For inaccessible locations, we may need to arrange for a shuttle service to load items into a smaller vehicle for the destination.

Is there a place to park in front?

Where will the movers park in relation to your front door?
Will we need a permit for street parking?

How to handle an inventory (virtual or in person):

A mover will go through your home with a clipboard or tablet, room by room to document furniture, artwork and items that will need to be boxed.
Be upfront with the mover about all your items, so we can establish an accurate inventory and estimate.

Be sure to tell them things you do not want packed.

Most movers work fast. Label the items you do not want loaded.
Designate a room or space for these things.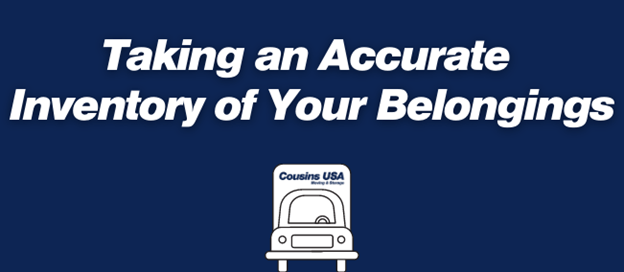 Taking an Accurate Inventory of Your Belongings
Start with a clipboard.
Create a new sheet for each room.
Go through each room and note:

Furniture (will it need disassembly?)
Items that will be boxed and the type of box (book box, medium box, large box, specialty box).
Items that will need special consideration (artwork; large, bulky items; TVs; mirrors).
Items that are on hangers.

Do not forget to look in closets, the attic, and the garage.
Put all sheets together in a moving binder, where you can also store receipts and paperwork from the moving company.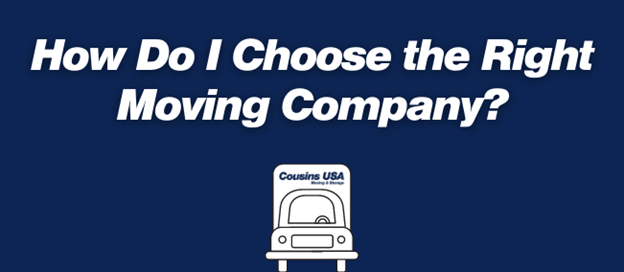 How Do I Choose the Right Moving Company?
Get estimates in writing.

Eliminate confusion and miscommunication.

Talk to 2-3 companies.

Compare what they have to offer and at what price.
Do this about six weeks ahead of time, or sooner if you are moving in the busy summer months.

Are they licensed and insured?

Make sure you are covered in the event of an accident.
Ask for license number and insurance carrier.

Are they family owned and operated?

If there is a problem, talking to the owner is best.

How long have they been in business?

Experience makes a difference.

Read reviews.

Do not look just at the five-star recommendations. Also look to see the common complaints people reported and how the company offered to rectify them.
Call the Mover
Once you have received your estimates, you should be able to choose a mover that meets your needs and your budget. Call the mover you are most inclined to hire and ask them more specific questions about your move, such as the type of services you need, and ask if they are available for your moving dates.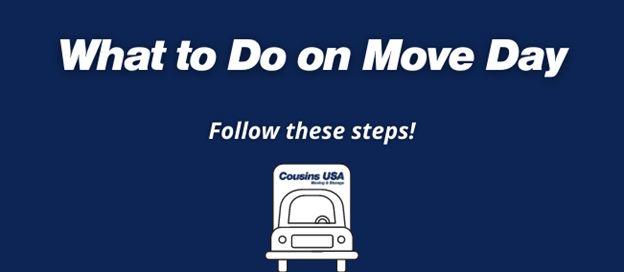 What to Do on Move Day
On moving day, you need to:
Be present for questions and direct the movers where to go.
Review documents.
Create and review your own inventory checklist.
Sign the driver's inventory list.
Provide payment.
What to Do at the New Location
Set up cable, phone, Wi-Fi, and yard maintenance.

Talk to the cable installers and other utility-related services for your new home four weeks ahead of the move to arrange for connection.
Have utilities turned on a day before your move.
Arrange to have utilities turned off at your old home a day after you move out.

Do you need a cleaning service?

The best time to deep clean a house is before you move in.
Consider scheduling a cleaning crew a day or two ahead of the move.

Do you need people to unpack?

We offer unpacking services to help you move in quickly.
We can place your items on a counter for you to put away or place them in the cupboards and closets.
We can haul away and recycle empty boxes.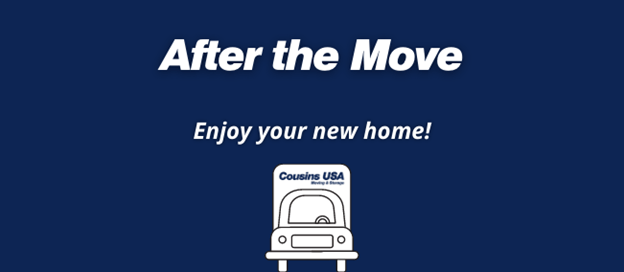 After the Move
What to do if something is broken during the move or is missing after the move:

Call your moving company and make a report. They may have a system for finding misplaced items.
Consider filing a claim with the moving company.
Have any proof of your item, such as photos from the move or your inventory list.

How to file a claim.

Call your moving company and ask how they file claims.
Here are some pro tips when it comes to preparing for a claim:

Be sure to keep your broken items.
Do not throw them away but set them aside in case the damage must be inspected for your claim. Submit claims as soon as possible to expedite the process.
If you notice a missing or broken item on the day of the move, be sure to say something to your movers right then to protect your rights. If you do not, it is hard to prove who is at fault.

How much will I recover as compensation?
Do not expect to get full value back for your lost or damaged item. The moving company may ask how much you paid for the item or what the condition was before. You may be able to negotiate how much you receive back, but this is up to the moving company itself.
Full or partial valuation: If you opted to pay for full valuation for your moving company, you will receive more compensation for your item. Valuation is typically dependent on the weight of your items and can be as low as receiving back $0.60/pound of your item.
Movers can limit their liability coverage on more expensive items. However, the exact cost of value protection varies by mover, so it is beneficial to ask your mover about their plans and have a clear understanding of your rights before signing the paperwork.
Let the company know if you are not happy. Or leave a positive review online.

Bad experience? Contact the moving company. More than likely, they will have policies and procedures set in place.

Good experience? Leave a review for them on Google or Yelp to let others know they are a great company to work with. Informing the moving company about your experience also helps them to better serve their customers by informing them what they did right and what they can do better.
Moving is a specialized industry. You're likely to come across unfamiliar terms. Refer to our Moving Glossary for explanation.